Enjoy a chef prepared meal
on our luxury yacht
At Happy Cruises we know how to dazzle our guest's foodie senses. For life's finer pleasures, we recommend our private, chef- prepared, premium dinner cruise aboard the Happy Ours yacht. This type of charter is certainly the way to celebrate a special anniversary, birthday, romantic date, or some other significant milestone. Better yet, why not treat yourself to a 5* food and service experience made with love, by the expert hands of our professional, gourmet chef Sam Dux. Some culinary pampering with intimate surroundings and a magnificent Miami sunset makes this charter all about the WOW! Have we tickled your fancy with this sumptuous foodie experience? Only one way to find out!
This rate is for 2 guests. Our premium dinner cruises serves a maximum of up to 4 guests. Guests welcome to bring aboard wine of preference and adult beverages of choice. Brief phone conversation with Chef Sam to discuss dietary restrictions and/or modifications 24 hours before the charter.
Premium Dinner for up to 2 guests: $2300
Includes dinner prepared on board by our chef
Captain. Steward/Stewardess
Each Additional Guest : $ 200
We offer two delicious prix-fixe menus; Sea Breeze or Dolce Vita menu. You will choose ONE of the two menu options for ALL of the guests to enjoy on your private charter. Combining menus is NOT an option.
Shaved Fennel Salad
Green Apple, Fresh Herbs, Roquefort Cheese, Champagne Vinaigrette, Pecans
Seared Crab Cake
Charred Corn Salad, Chipotle Aioli, Arugula, Scallions
Goat Cheese Crostini
Fig Jam, Roasted Peppers, Mixed Greens, Toasted Pecans, Citrus Vinaigrette
Buccatini all'Amatriciana
Pancetta, Marinara, Red Chili Flakes, Pecorino
Filet Mignon
Yukon Gold Mash, Charred Kale, Baby Carrots, Beurre Rouge
Lobster Tail
Parmesan Risotto, Mushroom Medley, Asparagus Tips, Charred Lemon
Eggplant and Zucchini Roulade
Asparagus, French Beans, Marinara, Basil, Pecorino
16oz Wagyu Ribeye (Additional $150)
Roasted Potato Medley, Seasonal Vegetables, Red Chimichuri
Chilean Sea Bass (Additional $50)
Couscous, Cherry Tomato Vinaigrette, Asparagus, Spring Onion
Fresh Tagliolini with Shaved Truffles (Additional $75)
Oraganic Butter, Sauvignon Blanc
To Finish (Choice of One)

Chocolate Torte
Milk Chocolate, Cocoa, Strawberries
Goat Cheese Mousse
Black Berries, Wild flower Honey, Ginger Snap Crumb
Gelato and Icecream Trio
Brittle, Roasted Nuts, Seasalt
Chef Samuel Dux began his culinary passion as a small child while shopping with his father through the farmer's markets of his hometown of Kansas City. The diversity of fresh produce and high quality locally raised meats lead to the basis of his cooking style today. It was at this young age that he began cooking for his family and developing his talent. After attending culinary school Samuel began his career working in French restaurants and hotels. Soon after he moved to New Orleans where he worked in multiple James Beard award-winning restaurants, and refined his repertoire of Southern American and Cajun food. Eventually life took him to the city that he loves and now calls home- Miami. It was here that Samuel underwent significant training in both Italian and Latin cuisine. Over the last 5 years he has held multiple leadership positions throughout some of Miami's top restaurants. This experience has given him a diverse range of culinary expertise that he now brings to the table of our Happy Cruises crew.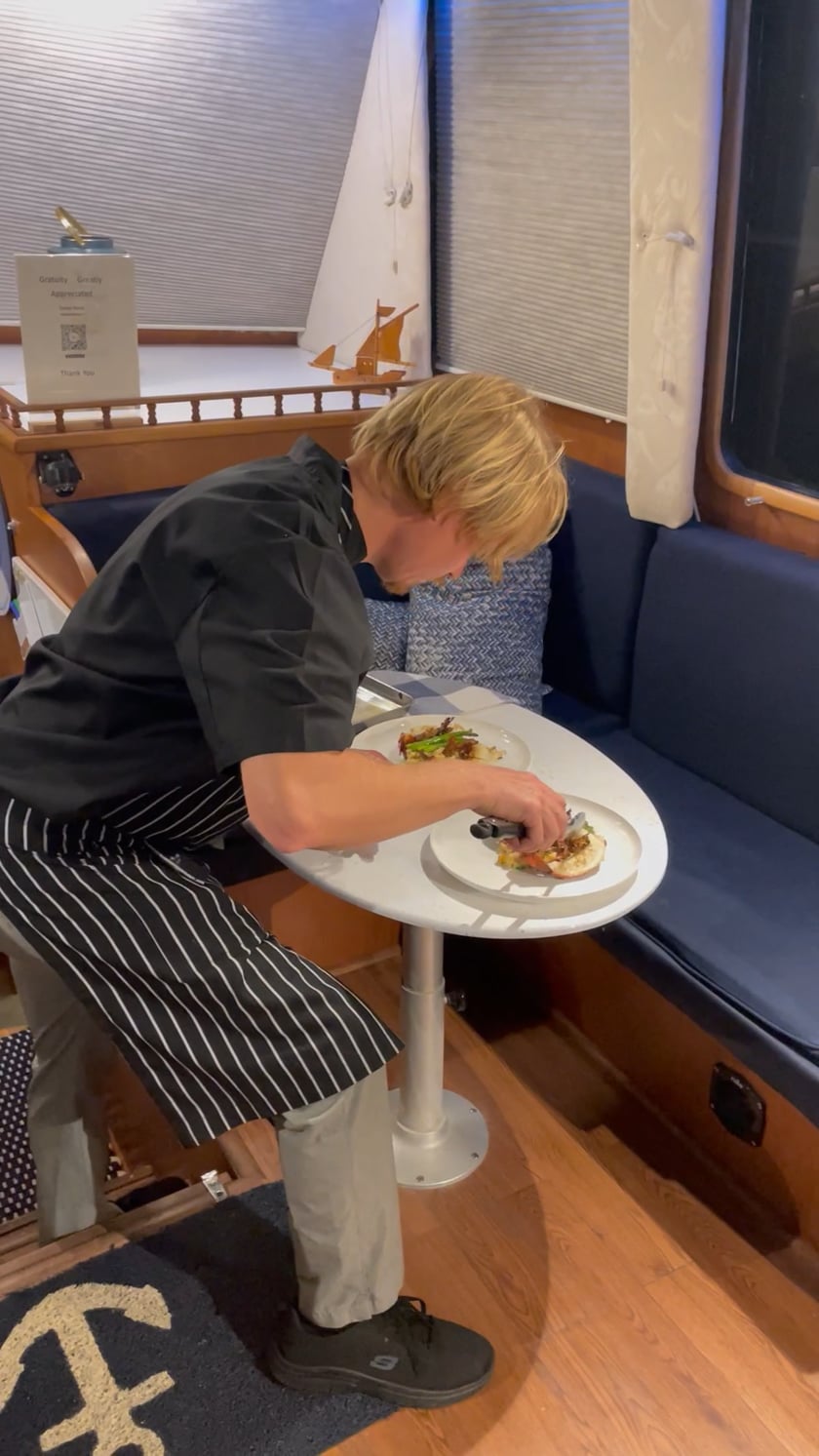 Premium Dinner Cruise
Hourly Rates & Pricing
4 Hours
$2,300
Extras
Each additional guest: $200